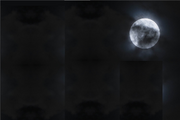 Active Admins
Admins/Bureaucrats
  Zenki (Founder/Moderately active)
  Semerone (Admin/Second in charge/Less active)
Moderators
  Goki (Moderator/Rollback/Mostly inactive)
Rollbacks
We are currently searching for rollbacks. If you are interested in becoming one, please ask Zenki or Semerone.
If your edits and behaviour are sufficient, you might be promoted.
Inactive Admins
As there currently aren't any admins besides Zenki and Semerone, and both are active, there are no inactive admins right now.
We are also not searching for admins right now, but you might be promoted from a moderator to an admin, if your edits and behaviour are sufficient.
Maintenance bot
  Elsoraq (Admin/Mostly inactive)
This bot is mainly used over at Kishin Douji Zenki Wikia, but it might occasionally be seen doing repetitive maintenance activities on this wiki.
Please contact Semerone, if the bot is malfunctioning.
Disclaimer
If you have any questions, regarding the wiki, or if you have a problem, contact these people. If you want to become an admin, or you think that you are good enough for the position, ask a bureaucrat politely.